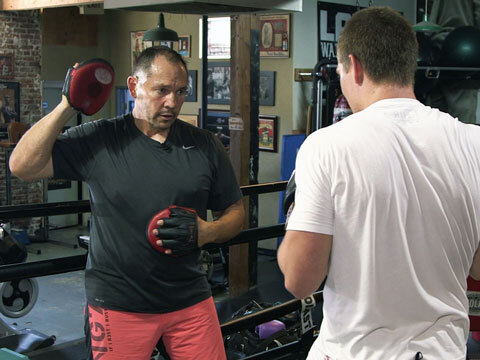 How to Box Like Manny Pacquiao
YH heads to Fortune Gym in L.A. to get our spar on with owner and trainer himself, Justin Fortune! He explains to us the different types of punching bags and what they're used for, plus he tells us what it was like to train the likes of Mike Tyson and Manny Pacquiao and then gives us a quick lesson ourselves!
Free Throw Lessons with Basketball Star Satnam Singh
YH catches up with basketball star Satnam Singh and we already have a crick in our neck looking up at the 7'2" Dallas Mavericks player! Nonetheless, we decide to take him on one-on-one, sharpening our free throwing skills and mastering the slam dunk!
3 Pointer Challenge with Indian Basketball Star Satnam Singh
YH is hanging out with Dallas Mavericks star Satnam Singh and we have a lot of sizing up to do! The NBA player sits down (to give our neck a rest) and talks about his training, his favorite move on the court, and his experience being drafted and how it has opened doors for every aspiring basketball player in his homeland of India, plus see how we do when we challenge him to a round of 3 pointers!
Getting Fit With Riverdale's Charles Melton
If you think you don't have time to workout, think again! Get ready to work up a sweat as YH catches up with actors Charles Melton ("Riverdale") and Jake Picking ('Only the Brave', 'Patriots Day') at Wild Card West Boxing Club to get their fitness on with celebrity trainer Alex Fine! Find out how Alex customizes workouts for his famous clients, plus get tips on how you can squeeze an effective "H.I.I.T." workout into your daily routine!
NASCAR Final 4 Prep for Championship Race
YH heads to the Homestead-Miami Speedway in Florida for the big NASCAR championship where we catch up with the Final 4 as they head into the home stretch! Kyle Busch, Brad Keselowski, Kevin Harvick, and the eventual champ Martin Truex Jr tell us what's going on in their heads and relieve a little tension with a friendly challenge to draw their cars in 2 minutes!